The success of an organization will sink or swim with leadership. That is a true and tested theory in management. A significant component of being a successful leader centers around uour interpersonal relationship.
A key ingredient called connectivity is often associated with face-to-face interactions. However, the pandemic situation forced the organizations to disperse its workers with very little or almost no preparation and almost limited "Work From Home" program or policy. The distance put the leadership ability and reach to the test.
This short program on Virtual Leadership aims to arm and empower key decision makers with the necessary tools and competencies, enough to adjust to the demands of the times. This program will cover virtual culture, virtual temas and personal adjustment for all parties concern.
OBJECTIVES:
Basics of virtual culture and virtual teams
Challenges of virtual management
Best practices for a virtual leader
Virtual leadership competencies
Virtual leadership self-assessment and bridging the gap
REGISTER HERE:
https://docs.google.com/forms/d/e/1FAIpQLScX-9IjU7hKjW08QcIqt5IT8945HMb6181VNPK2xoF_GhRVLg/viewform
REGISTRATION FEE: P1,500.00
RESOURCE SPEAKER: TITUS MANUEL
See attached file for more reference.
For inquiries, email us at training@natcco.coop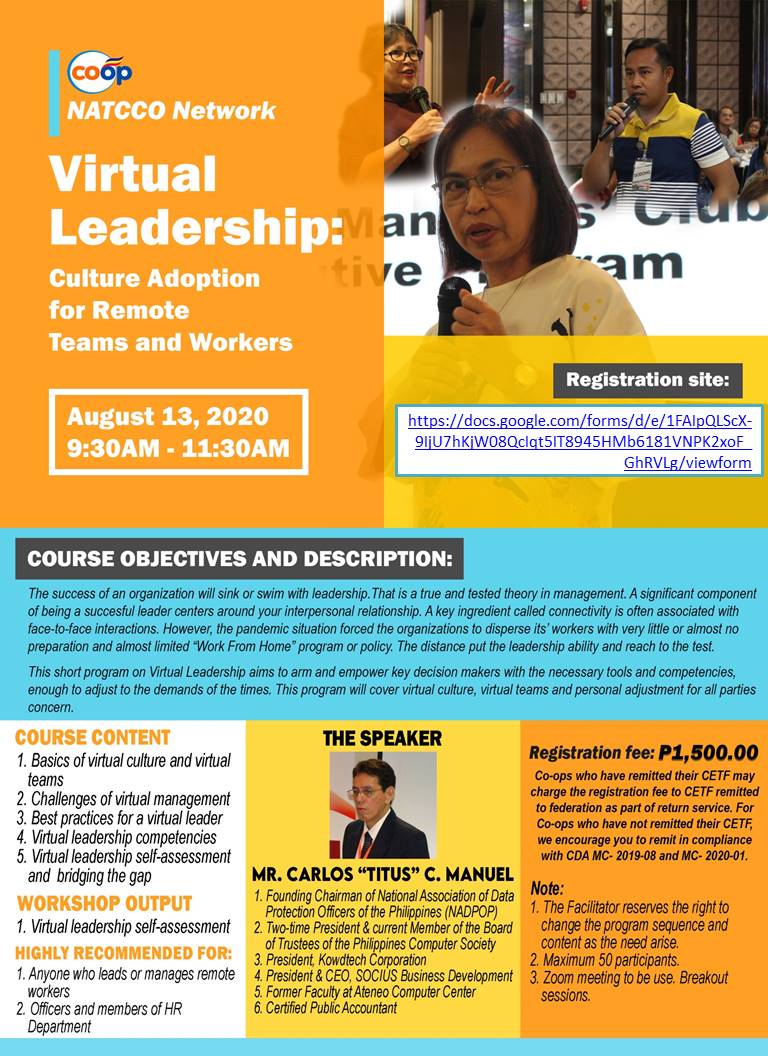 Virtual Leadership.pdf